A student led National Junior Honor Society initiative in honor of April Prevention to Cruelty of Animals month that led to the showing of Blackfish this week has now caught the attention of the Shedd Aquarium in Chicago.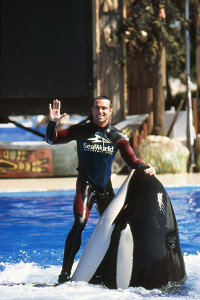 Approximately 70 — 6th, 7th and 8th grade students watched Blackfish this week. They were given a handout taken directly from Seaworld's website which stated Seaworld's position on the movie and were encouraged to learn both sides of the captivity debate. They were also provided a series of critical thinking questions they were required to answer in response to watching the movie. Educator's asked the students to research and think about this hotly debated issue. Mr. John Hargrove is scheduled to speak to the students via a live Skype session on Tuesday May 6th.
It is speculated that social media may have led the Shedd Aquarium in Chicago to contact the school on May 2, 2014 and request an opportunity to speak to students about their own 'training' programs.  The school has granted their request.
Shedd's Beluga program began in the 1990's
Since the early 1990's sixteen (16) wild Beluga whales have called Shedd Aquarium their home. The last of the wild caught beluga's died in 2011. The Chicago Tribune said this in an article dated October 12, 2011:
Puiji, one of two wild beluga whales who helped boost the Shedd Aquarium's attendance and popularity after being collected from Manitoba's Churchill River in 1989, died at age 25 following a seizure in the Oceanarium's marine mammal medical pool.

Her death marks a sad milestone for the Shedd's giant, $45 million Oceanarium marine mammal pavilion, which opened in 1991 with Puiji and another juvenile female beluga, Immiayuk, as stars. The Oceanarium helped the Shedd become the most-visited cultural attraction in the city.

The Shedd had planned that Puiji and Immiayuk would be the core of its beluga breeding plans. After several setbacks, they came through. Just five months before her death in 1999, Immiayuk gave birth to a female, Kayavak. Puiji gave birth to a female, Bella, in 2006, and a male, Nunavik, in 2009.
Shedd's Belugas are dying
In the last two decades nine (9) of the sixteen Shedd Beluga whales have died. Most of them died as infants or were stillborn. Two Manitoba Beluga's died within days of brutally being wild caught and transported to Shedd Aquarium.
In 2008 the Shedd Aquarium finished a massive renovation that included a dolphinarium and an aquatic show called Fantasea. When the show first launched a screen came down, the venue became dark and trainers were forced to wear costumes. The trainers put the dolphins and whales through their paces and penguins reluctantly trotted out into the audience. The show received many negative Yelp reviews and Yelpers claimed the show had no educational value. Shedd Aquarium has since re-named the experience the  'Aquatic Show' and the reviews on Yelp are largely positive.
Despite high ticket prices $34.95 for adults and $25.95 for children people stand in line for hours to gain entrance to the exhibits.
Shedd applied for NOAA permit to import Russian Beluga's
The 2012 Georgia Aquarium permit to obtain eighteen Russian caught Beluga's included permits for 'partner' facilities. Shedd was named a partner facility in the NOAA Permit Application. Although the permit was denied because wild Beluga population numbers are not well understood, Shedd and Georgia Aquarium refused to take 'no' for an answer. Georgia Aquarium filed a lawsuit on behalf of themselves and partner facilities to appeal the NMFS decision knowing that these marine mammals do not do well in captivity. The Federal court has agreed to intervene on behalf of the Beluga's in an upcoming court battle filed by Animal Welfare Institute (AWI), Whale and Dolphin Conservation (WDC), Cetacean Society International and the Earth Island Institute.
Children will ultimately decide
If every child and parent knew that wild dolphins and whales lived together in matrilineal pods for decades, that  female orca live to the ripe old age of 100 and  female babies never leave the side of their mothers, would people still want to buy a ticket to dolphin or whale show? If every child saw the brutal capture of wild caught dolphin and whales would they think that is fair and just?
The discussion in schools is just beginning and we believe that if we educate children with factual information about wild vs captive dolphin and whale populations they will come to their own conclusions on marine mammal captivity, marine conservation and conservation of species. We have to make doubly sure that children are being exposed to factual messaging and statistics from reliable sources.
If you would like to introduce the movie Blackfish or The Cove to your student led community group (Girl Scouts, School Clubs, National Junior Honor Society, etc.) please contact us. We can help you organize your project and bring experts speakers to your group.